May 31, 2018
Time: 8:15 PM – 10:15 PM
Join City of Loveland Parks & Recreation for the first film in their inaugural Movies in the Park summer series – Field of Dreams starring Kevin Costner. Admission is free. Plus, enjoy batting cage specials and concessions. The movie will be screened at field #4. Presented by Kaiser Permanente.
Feel free to bring blankets, chairs and a picnic dinner (NO alcohol or glass containers, please).
May 26-27, 2018
Step back in time to Colorado's Centennial Decade, 1866-1876, with a visit to Centennial Village Museum, 1475 A St. Spend Memorial Day weekend exploring the 8-acre living history museum. Check out blacksmithing, timber cutting, and chuckwagon cooking demonstrations. Opened during the nation's bicentennial in 1976, Centennial Village Museum preserves and interprets American western heritage in the Colorado high plains region over the last 150 years. Some of Weld County's oldest structures are located in this museum.
During Centennial Celebration, visitors can also enjoy a historical performance by the Buffalo Soldiers on May 26 at 11 a.m.
Admission to Centennial Village Museum is $8 per adult, $6 per senior (60+), $5 per child (ages 3-17). The museum also has a special family rate of $18 which includes admission for up to 5 people.
May 26-28, 2018
This is the 19th annual Art Market featuring approximately 100 artists and craftsmen from around the country who join us on Memorial Day weekend to market and sell their fine arts and crafts. This even is a family friendly event with great reviews from artists and attendees and for the kid events.
June 2
The free, family-friendly festival will once again take place just across the street from New Belgium Brewing on the Poudre River Oxbow. Come party by the river and learn all the about the Cache la Poudre. Throughout the day, you can dance to live music from Chris Dismuke, Colony Funk, Bonnie & the Clydes and Lonesome Days. There will also be food from local restaurants and beer from New Belgium Brewing available.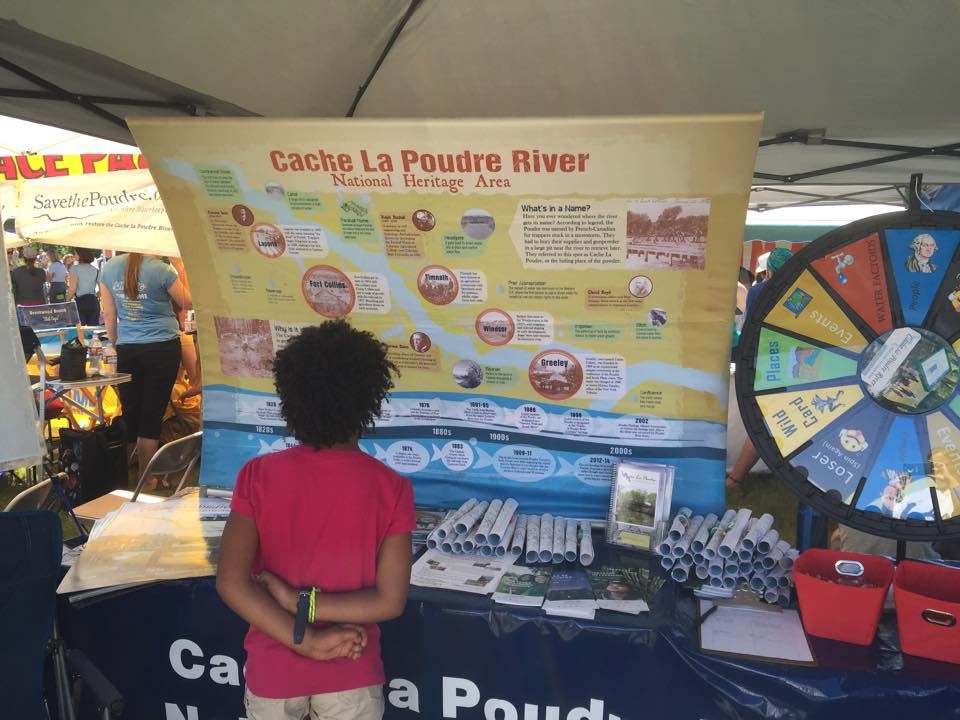 June 2 – 3
Celebrating its 28th year in 2018, Estes Park Jazz Fest is set amidst the beautiful rock backdrop of Performance Park outdoor amphitheater. Over the course of two music-filled days, you can enjoy seven artists and bands for just $10 a day or $15 for both days! Children are admitted for free and all tickets will be available at the door.
June 8 – 10
Taste of Fort Collins is all about music, food, drink and fun! The festival showcases local tastes from some of our favorite NoCo eateries and food trucks as well as music performances from national and touring bands, non-alcoholic beverages, craft beer from Odell Brewing Co. and New Belgium Brewing, cocktails from Mystic Mountain Distillery, and more wine and craft beer provided by Wilbur's Total Beverage.
June 8 – 9
If you're a fan of blues, great food, local drinks, family activities, camping and days of fun, then make sure you get to Greeley Blues Jam this June! Driven by the motto, "It ain't nothin' but a party", the whole family is guaranteed to have a great time. Dance and sing along with more than nine headliners — including local favorite Mojomama!
June 16
The warm weather complement to
Berthoud SNOWFEST
, this event is host to the Outdoor Quilt Show. Quilters display their creations in the park and win awards for their work! Join the fun and get to know the community of Berthoud.
June 23 – 24
The Colorado Brewers' Festival is held in Fort Collins every summer and was named the best festival in the state at the 2015 Governor's Awards for Downtown Excellence. In 2018, the festival is celebrating its 29th year with more than 90 Colorado beers, over 40 Colorado breweries and an interactive Beer School with tastings and demonstrations. Additionally, you can enjoy local musicians, vendors and food trucks. Admission to the event is free but to taste beer, you'll need to purchase a Tasting Package; get info on
advance purchases here
.
June 24 – 26
In Bond Park each summer, the Estes Park community comes together for this lively, cultural extravaganza. Come for the raising of the Midsummer Pole and stay until the last Viking has left the village. This will soon become one of your favorite festivals, too!
July 13 – 14
For the 12th year in a row, Loveland is showing off its love for BBQ, bands and beer. Over the course of two days, the music lineup this year features six bands in every genre from country to soul and everything in between. When not dancing to music, you can explore local vendor booths, eat
a lot
of BBQ and sample brews from local craft breweries!